Discovery & Electronic Resources Librarian, Alex Dodd, coordinates acquisitions and management of resources including databases, e-journals, and streaming media! We recently talked to Alex about the importance of electronic resource trials. Check out the current trials and evaluate some resources!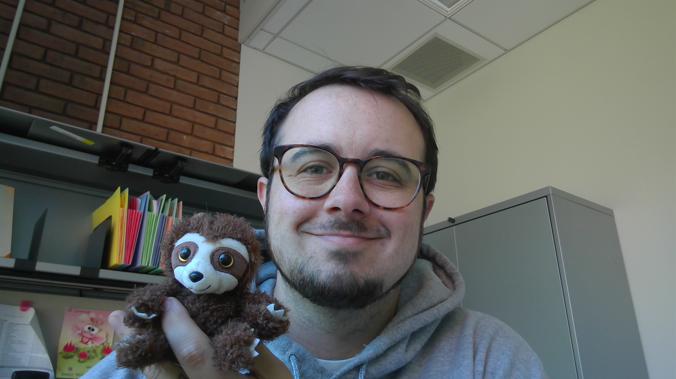 What does your job involve?
I manage all of our electronic resources from when we first get a resource (including the trial process, negotiation, invoicing) through renewals (when we decide whether or not to continue to subscribe to a resource). I run Seeker, the part of the website that allows you to search in one place for all of our databases.
What are database trials?
When we get a request for a new resource, we will always run a trial for at least 30 days. Through that trial, we request feedback from faculty, staff, and students about how they liked the resource, if they think it is useful, if they think it is easy to use, those types of questions. We take all of that information into account in our decision-making process!
How do I find a database trial or know that a database is a trial instead of a permanent resource?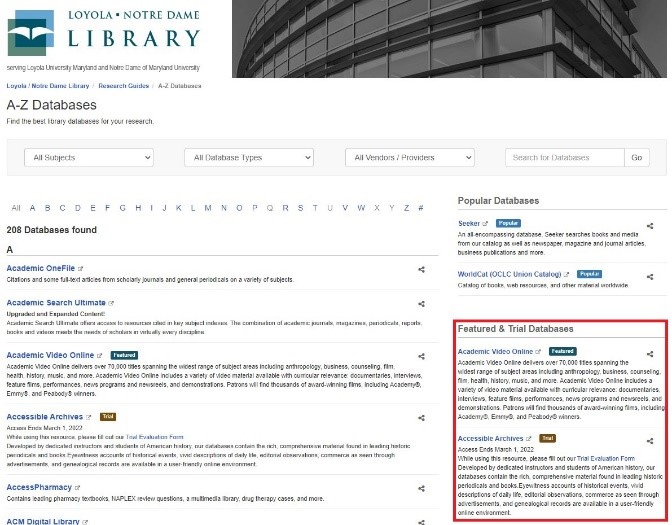 On the database list on the library website, there is a column on the right side that has featured and trial databases. There will be a little brown "trial" tag next to the title. Also, under each resource title, there is a trial evaluation link.
Why are trials important?
Trials give us a lot more qualitative data on a resource than simple usage statistics. Usage statistics, while super helpful, will only tell us the number of people that use the resource in a given period of time. The evaluation would tell us if it is useful and if patrons would use it in the future. It gives us a well-rounded set of data to make a decision in the future.
And we want feedback from everyone! We like to get as much input from as many users as possible. Which includes students! Students, please do our trial forms!
How often do we have database trials?
It varies! At the end of last year, we ran around 20 database trials. So far this year, we've only run two trials.
What types of resources do we run trials on?
In addition to databases, we run trials on ebook collections, databases, streaming media, and e-journal collections.
What do you look for in a database? How will you know if a database meets the needs of users?
We look at trial evaluations, faculty recommendations, and the kinds of research that people are doing on campus. We see if it matches the school curriculums and faculty research. We look at the publisher and the information provided by the publisher. We will compare ourselves to our other schools. If many Jesuit university libraries seem to have this resource, then it could be a good resource to have.
We also use a resource called ccAdvisor that provides reviews of electronic resources. This site provides a scorecard on elements such as user interface, searchability, and content. The reviews are written by librarians, faculty members, and researchers.
What trials are happening right now?
We are currently running trials for Accessible Archives (trial ends March 1, 2022), Oxford Classical Dictionary (trial ends October 28, 2021), and MLA Handbook (trial ends November 3rd, 2021).
Final question, what's your dog's name?
Luna. I also have a cat. Her name is Barbara, but she goes by Babs.